SHEN YUN is back in Geneva in 2019 on the 28 FEBRUARY, 1er, 2 and 3 MARCH 2019

Shen Yun : " The rebirth of 5000 years of civilization "


The culture of ancient China was divinely inspired. Shen Yun's works reflect this rich spiritual heritage. Let Shen Yun take you on a magical journey and we will share with you the beautiful world of China's divine civilization. Classical Chinese dance, ethnic and folk dances, authentic costumes, and breathtaking backdrops will do the storytelling, all accompanied by an enchanting
orchestral sound.
It's a stunning experience that will leave you amazed and inspired.
Experience the wonder of authentic Chinese culture. Experience
Shen Yun
.
4 shows in Bâtiment des Forces Motrices :
Thursday, 28 February 2019, 19h30
Friday, 1er March 2019, 19h30
Saturday, 2 March 2019, 19h30
Sunday, 3 March 2019, 14h30
4 shows in Bâtiment des Forces Motrices :

Thursday, 28 February 2019, 19h30
Friday, 1er March 2019, 19h30
Saturday, 2 March 2019, 19h30
Sunday, 3 March 2019, 14h30
The VIP ticket will allow you to live an exceptional evening with a cocktail at intermission and the end of the show. For more information, please contact 076 436 08 79 - 076 432 08 79
.
.
Children under 4 years are not admitted.
GENEVA –
Fouad II, the last king of Egypt.
Prince Ahmed Fouad Farouk became an infant monarch in 1952 after the abdication of his father King Farouk I following the Egyptian Revolution. His reign came to an end less than a year later when Egypt became a republic, and his family fled to Switzerland, which has become Ahmed Fouad's adopted land.
"I congratulate the company for the wonderful performance I saw tonight : costumes, exceptional dancers, and music !" . "I am a great admirer of Chinese culture and Chinese history. I spent a wonderful evening and I thank [Shen Yun] from my heart."
ROMA –
Princess and pianist Caroline Haffner Murat
at Teatro dell'Opera di Roma.
She has founded a number of festivals including the "Sommets Musicaux de Gstaad". And was involved in the founding of the Verbier Festival and Academy. Actually, she is Doctor Honoris Causa of the University of Casale Monferatto (Italy).
« Moreover, we feel that there is a message that it is trying to get across, and it gets across. … Well, precisely fraternity, love, spirituality and hope. And all that is obviously the divine that brings it to us. » « They are perfectly synchronized and it's a celebration for the eyes, truly magical, beautiful." "It's wonderful. You bring us a lot in this performance—enormous. »
BRNO (Czech Republic) -
Daniel Herman, the minister of culture in the Czech Republic
"It is a massive power that can embrace the world, and I think it's a positive barrier against evil, violence, lies, falsehood, and that is the way." "I've been thrilled by Shen Yun in Brno this year. It's a beautiful show presenting both the superb art of the profound Chinese culture, as well as the spiritual aspect, and it provides hope, most important of all."
"It is indeed the touch of the divine. I think it is important to raise our heads toward the values from which this message and art come from. I say it again: there is a big hope in this and it cannot die."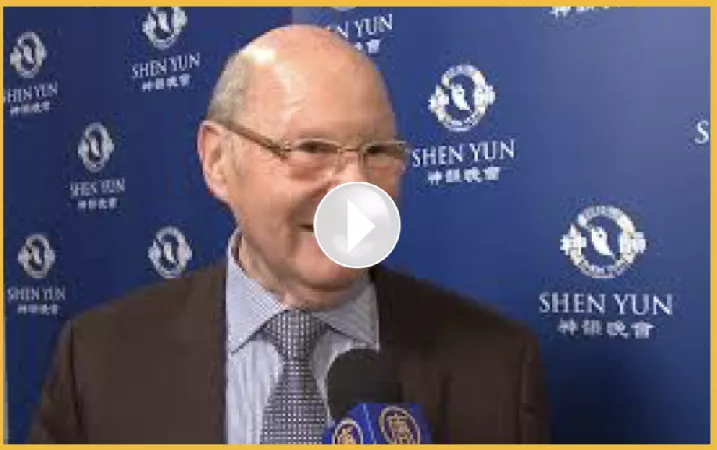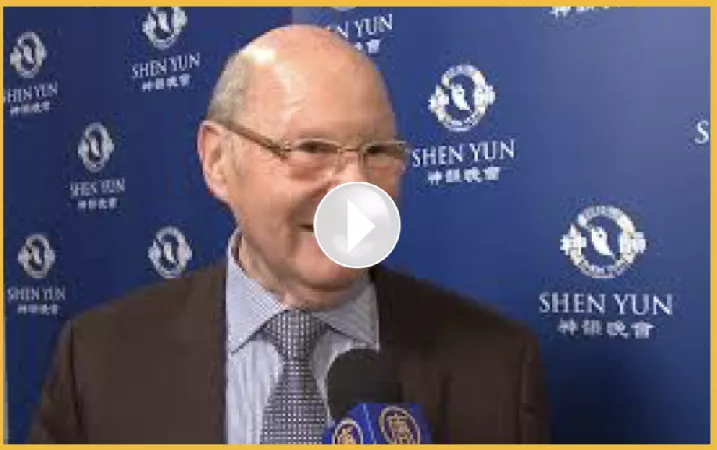 GENEVA –
Dominique Föllmi, Geneva orchestra president and Former head of City's Government.
"What [Shen Yun is] presenting us is total perfection. At the end, we feel good, we want to carry it further, we want to bring this message [Shen Yun gives] us to others. It is happiness, real happiness."
"Though Shen Yun shows the history of China—"its 5,000 years of history and spirituality, This heritage was lost and [Shen Yun] actually revives it in an outstanding and sublime way."
"I am a former president in the government of Geneva and was in charge of education, training, and culture. So you can imagine that I'm especially delighted by this show. This is so much what we try to develop in relation to education and to young people. It is exceptional."
"Shen Yun brings something ancient with a fresh look to spirituality and a vision of the world with Heaven, deities, et cetera. It's wonderful and it's a message our world needs so much today. Moreover, to love your neighbor and be open-minded is a message we need to hear."
"A very strong spirituality, a vision of society with wisdom, goodness, patience which is so important."
"I would say that the orchestra is exceptional, a jewel with such precision, it's fantastic! The music is powerful, beautiful, it grabs you, you rise with it, it's really fabulous."
FRANKFURT -
Mr. Michael Meister, parliamentary state secretary at the Federal Ministry of Finance
at Frankfurt's Jahrhunderthallehas.
Mr. Meister and his family have seen Shen Yun at least five times.
« Shen Yun is perfection in everything : the dancing, the songs and the music. The harmony between performers is of the highest degree… One feels without doubt the deep meaning that is imparted by the dances and the songs…I will return home feeling less stressed, more at ease, and [with] a serenity I won't experience from anything else I can think of. Besides, I will reflect upon what I have seen for a while and know that it will help me understand myself more deeply. »
GENEVA –
Bogdan Zvoristeanu, as first violinist and principal concertmaster of the Orchestre de la Suisse Romande
since 2002. The award-winning violinist has been invited as a soloist and chamber musician to festivals around the world, including several countries in Asia.
"What is achieved is a materialization of the divine, it's extraordinary!" "This was really beautiful, it is a treat for the mind, is the best way I can express it. In a way, it was beyond a treat, and an inspiration that was almost a cleansing."
"The music is very touching, the combination of instruments in Shen Yun—a Western orchestra with traditional Chinese instruments as permanent ensemble members took the audience "to another dimension, [to] a past which is very clean, very pure, where there is a lot of truth."
"Today I felt it very strongly, because what we lack are exactly these values that are deeply human. Today the word 'human' is soiled very easily. When we say 'human,' people say right away that it is not perfect. But in fact, humanity implies the divine and the divine is perfect," We just forgot about it and this show reminds it to us."
"Everything comes from within and communicates within, it comes from the heart and it goes to the heart, it goes through the mind and it remains anchored there. It is an immense source of inspiration not only for the artists but for everyone."
GENEVA –
a composer, lyricist, and publisher, Francesca Aeschlimann has worked with the likes of Petula Clark, Jermaine Jackson…
"Shen Yun, this was an amazing piece of art."
"I feel the colors; it is light, it is beauty, it is full of opening your heart and opening all these different emotions that we hold in our hearts. It is the opening of the light."
GENEVA –
Stephan RIECKHOFF, first violoncellist of Concertmaster of the Orchestre de la Suisse romande
"When I saw this show, the work of musicians and dancers who work mostly on the quality of a human being to respect all that is beautiful about this earth. This requires the notion of respect not only for the humans but also for oneself, for plants, for everything in the cosmos, it was beautiful about what it was represented in this show."
PARIS -
Former diplomat François Claudel, Paul Claudel's grandson
at Palais des Congrès.
"A wonder is a delight at all times"
"And tonight we saw a pure China, clean, free and expressing its enthusiasm, its innocence, its light, its grace. A great grace, in the plastic expression of the dance, and even in the expression of the songs. And the music is beautiful! Bravo!"